KAREN THASTUM <![if !vml]><![endif]>CURRICULUM VITAE
www.turayamoya.de, mail:karenthastum@hotmail.com

<![if !vml]>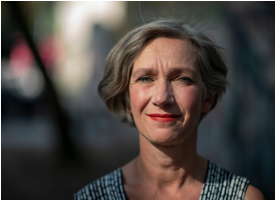 <![endif]><![if !vml]>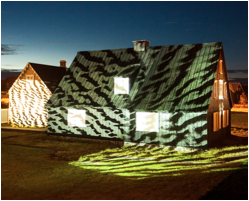 <![endif]>
born 1963 i Aabenraa, Denmark
<![if !supportLineBreakNewLine]>
<![endif]>
Media artist working with site-specific sound and Projection Art.
KTs site-specific concerts and installations uses analogue (slides) in combination with digital media and sound.
KT also work as a composer an Musician (CL / VOC / PNO ). She is a gifted still photographer and made several documentary
and Art films that have won international awards. In 1988 Karen founded the cross disciplinary Nordic, German and international Art project
TURA YA MOYA which she has since headed; ÒThe site of the performance- a planetarium, a church, an old ruin - is the base of inspiration.
By the use of slides, film and video projected onto surfaces and walls and new music TURA YA MOYA is crossing borderlines between Art Forms.Ò
KT often seeks inspiration for her work in the original art, and in the history of the Scandinavian countries al well as in Berlin and Greenland.
EDUCATION: Hochschule der KŸnste Berlin. D, Fb. 4 Experimentelle Filmgestaltung og Fb. 6 Spiel und BŸhne
Professor Herta Schšnewolf (D) & Danish design school, K¿benhavn, tegning og grafik (DK).

PRODUCTIONS ( collected ):
<![if !supportLineBreakNewLine]>
<![endif]>
2019 HAVETS VEJE; Sjogvur and Juras Celi - performed at Sudortoy Faroeislands and in Riga (LV)
Mixdmedia Sea Symphony in progress
2015-18
ANERSAAQ / ANDI / ND - spirit of place, mediecontainer on tour. Bod¿, Finnsnes,(N) Eyrarbakki, Selfoss,
Hverargardi, Reykjavik, (IS) Kulusuk, Kuummiut, Tasiilaq, Nuuk, Qeqertarsuatsiat, Arsuk, Paamiut, Qaanaaq,
Qaqortoq (GL), Cultural capital Aarhus2017 (DK), Berlin (D).
2015 LYSR Albertslund ( DK )
2014 TAARNERTA NALAANI SARSUATITAT / VETURLJñS (DK /GL / IS)
2011 NIPI & QAAMASOQ SAGA, Gr¿nlands Kulturhus Katuaq, Qeqertarsuaq Museum, Saqaq,
Ilulissat Kunstmuseum (GL), Islands Nationalmuseum (IS)
2009 PLANTS Botanisk Have, Cph. (DK) Nordische Botschaften, Berlin (D)
2008 FORGLEM MIG EJ Nationalmuseet, Cph. (DK) KYNDELMISSE K¯S, (DK)
2007 ZEITGEIST Frue plads, Cph. (DK)
2006 NIPI SAGA Nordische Botschaften, Berlin (D)
2005 SEXTANT Steno museets planetarium, Tycho Brahe Planetarium (DK)
TIL UNGDOMMEN Aabenraa Havn (DK)
2003 NORTHABILITY Nordische Botschaften (D)
2002 ESTAFETTE SON Sp¿ttrup Borg (DK)
2000 CAVE 2000 M¿nsted Kalkgruber (DK)
1999 MORIA Trekroner Fort Kbh. (DK)
<![if !supportLineBreakNewLine]>
<![endif]>
TEACHING ART since 2004 HUSKUNST: Kunshochschule Weisensee & Det Kongelige Danske Kunstakademi,
gymnasier and schools in Germany, Scandinavia and Kallallit Nunaat (Greenland)
GRANTS: Senatsverwaltung fŸr Wissenschaft, Forschung und Kultur: Arbeits Stipendie Tonstudio (D)
DET DANSKE FILMINSTITUT produktionslegater, STATENS KUNSTFOND Komponist hononrar.
And Nordic Cultuerpoint, Kusnstsyrelsen: Statens MusikrŒd, Kulturministeriets udviklingsfond,
Det danske Kuluturinstitut + K¿benhavn, Arhus, Sp¿ttrup og Fjends Kommuner + Statsministeriet,
K¿benhavns Kulturnat, Nordisk Kulturfond and others.
COPORATIVE WORKS:
Visuel Artists: Inge Mahn (D), Ursula Reuter Christiansen (D), Ragna Wehding (DK) og Jeanette Land Schou (DK),
Henning Christiansen (DK), Maria Gradin (NO), Anders Sunna (S)
Komposter / musicians : Jeanette Balland(DK), Kristian Blak (FO), Marilyn Mazur (DK), Claus Hovm¿ller, (DK) Udo Erdenreich (D),
Silbat Christensen( GRL), PO J¿rgens (DK), Diane Labrosse (CAN), Thomas Agergaard(DK), Zam Johnson (USA)
Henning Christiansen (DK), Henning Frimann (DK) und Eliane Radiqu (F).
Dancers: Kitt Johnson(DK), Minako Seki (J) & Yumiko Yoshioka (J), INK BOAT (USA), Do Theather (RUSLAND)